About Us Rydell Auto Outlet
Rydell Auto Outlet has a longstanding reputation of fairness and loyalty in the auto industry. Leonard Rydell, the founder of what would later become the Rydell Automotive Group, began his career in the car business back in the 1940s in Montgomery, Minnesota. His philosophies, known as Leonardism's, guided his business as well as his personal life. His imprint on the way to do business was handed down to his son Wes who bought the business from his dad in 1976.
Wes made Rydell Chevrolet the place of the one price, no hassle, no haggle dealership that continues today. Today, the Rydell Group has 68 dealerships located in 11 states and is continuing to grow. Rydell Auto Outlet is proud to be part of that group and legacy where it is our goal to be a leader in the industry by providing the highest quality in our products and services.
Our Mission
We continually strive to meet the needs of our customers while providing an atmosphere that encourages employees to excel through teamwork and integrity. We work together to improve standards for sales and service while ensuring leadership and profitability for the business. Our focus is to exceed the expectations of customers and employees to create a loyal base for a lifetime.
Our Philosophy
Our philosophy revolves around five key areas:
·         Customer Enthusiasm - Customers who are satisfied with our service are enthusiastic about recommending us to others.
·         Employee Satisfaction - Employees who are happy have no desire to leave.
·         Financial Performance - We want to maintain profitability and invest in the company wisely.
·         Market Effectiveness - We offer a wide range of models across brands.
·         Ongoing Improvement - We work hard to improve in everything we do.
While every area is important, here at Rydell Auto Outlet, the customer comes first.
In 1976, Leonard sold his company to his son. Wes began using the one price approach with no haggling that is in use today. In 1980, the two men assisted a manager in the company with buying his own dealership in North Dakota. This same process has been used with other managers, and now the company has grown to 68 dealerships which are located in 11 states. The same philosophy of the early days is carried through all the dealerships today and has been a model for success and customer satisfaction.
When you want the best, only Suzuki and Rydell Auto Outlet will meet your expectations..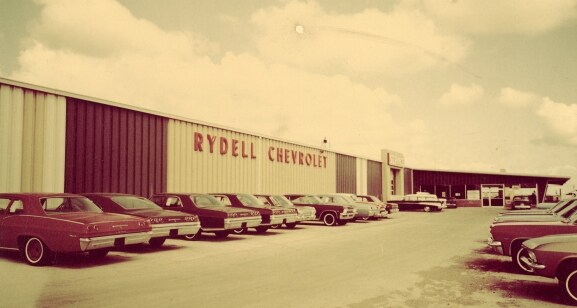 Our History
We are proud to be a part of the Rydell Automotive Group.
Leonard Rydell (1913-2000) started in the car business in the 1940's in Montgomery, Minnesota. He had many strongly held business and personal philosophies that served him well. These philosophies, known as "Leonardism's", help guide our group through our daily business and personal decisions. In 1976, Leonard sold the business to his son, Wes. Under Wes' direction, Rydell Chevrolet converted to the one price, no hassle, no haggle pricing policy that is followed today. In 1980, Leonard and Wes helped one of their managers purchase a dealership in Mandan, North Dakota. Their goal was to help that manager to eventually own the dealership outright. The plan worked and Leonard and Wes have repeated the process with many other managers since then. The Rydell Group has now grown to 68 dealerships in 11 states and continues to grow to this day. Rydell Auto Outlet & Garage is one of those dealerships and continues to operate under the same philosophies and values as we did when we were a Saturn store. The brand left, but the people, owners, and where we come from remain the same. We have been a staple in the automotive sales & service industry in the twin cities area for the last 20 years & strive to create customers for life.